Merchants frequently use custom PR boxes to get a free spotlight from social networking influencers. A PR package is a set of goods that you give to a group of selected personalities with the expectation that they would promote the goods to their followers. Although several businesses and brands can utilize them, the beauty sector employs them more often.
Before delving into the details, let's first discuss the significant and top perks of PR boxes!
If done appropriately, and with specific goals, developing a profitable PR box can help with strengthening the popularity of the company, releasing new items, and raising total sales.
Furthermore, you can acquire the following specific outcomes from these boxes:
Sparking a certain amount of Instagram unboxing images.
Furthermore, initiating brand-focused interactions on social media.
Also, establishing a buzz before the official arrival of an upcoming item.
Obtaining a specific quantity of income using the relevant promo codes.
Well, this was all about the PR boxes and their perks. Now let's move forward to discuss how you can create alluring PR boxes and much more!
How to Build a PR Box? Easy-to-Follow Guidelines:
Are you in search of a way to create amazing and enticing PR boxes? Do you want to be more visible in the market? Then you must employ PR boxes. And if you want to know the appropriate and affordable tactic to build a PR box then this step-by-step guide is for you. It will surely help you in this manner.
So stay tuned!
Minimalist and striking design.
Add handwritten notes.
Apt material selection.
Contemplative packaging and display.
Come on. Let's delve into further details!
Minimalist and Striking Design:
A thrilling design is the foundation of effective packaging.
Most likely, the company you operate is already employing a trademark or a specific color to represent its brand. When making PR beauty boxes or other packages, try to include these components and all interactive elements. It will foster your visibility and aid in making folks vividly recall you. Thus, always try to employ multiple and novel designs.
Add Handwritten Notes:
What about the creation of thrill with handwritten notes?
Incorporate a written personal message that is directed to the celebrity influencer and contains remarks or information that demonstrates your interest in their social networking profile or channels. Prior to writing the letter, compose the text in a word-processing program to verify errors in grammar and spelling. Moreover, hand-written notes improve the emotional attachment between your customers and the brand.
Apt Material Selection:
It all starts with selecting the right packaging materials.
Well, for your luxury rigid boxes, you must select between paperboard and cardboard. Corrugated cardboard is typically the best option. Moreover, one of the most versatile, flexible, adaptable, budget-friendly, and green packaging alternatives is corrugated cardboard. These features make it a fantastic choice for guarding your goods.
Contemplative Packaging And Display:
The tempting display is the attention-grabbing key.
Contemplate the presentation of the package. For a better unwrapping experience, include tissue paper, insertions, or other imaginative features. Additionally, you can add magnetic closures, wax seals, or ribbon ties on custom rigid boxes. All these exclusive features can add the aura of luxury and give the impression that the package is a unique giveaway.
FREQUENTLY ASKED QUESTIONS
Now, it's time to delve into the frequently asked questions regarding PR packages.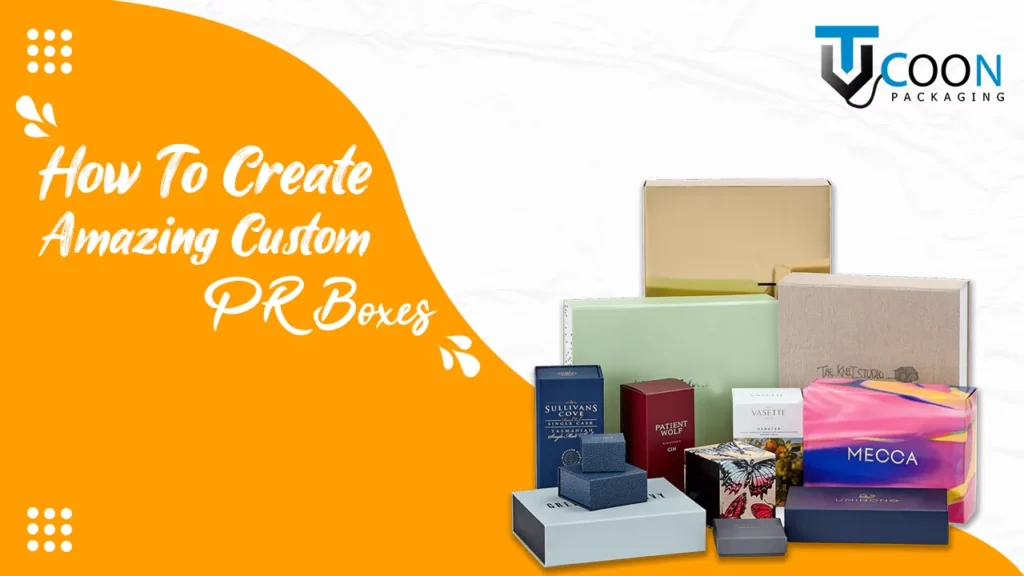 What are the common types of PR packages?
Following the business and its target demographic, there are many distinct varieties of PR packages. Let's look at some typical PR offerings that celebrities frequently get:
Cosmetic and skincare items.
Apparel and fashion items.
Gadgets and technology-related items.
Food and beverage.
Travel and hospitality-related packages.
Fitness and health-related items.
What should be in a PR box?
It's imperative to give details regarding the customer or company, the item, a promotional code, and usage guidelines.
How do you make a good PR box? 
Well, a good PR box can be made with custom packaging. Moreover, for a great box, the items must be safely packaged to resist all the harm and other external factors. For this purpose, always prefer green and sturdy packaging materials. Also, the design of the box should be alluring.
Why do people get PR boxes?
Such boxes contain thoughtfully chosen company goods delivered to an array of prominent people or social media influencers in the hope that they will utilize the item, give reviews about the product and brand on their social media accounts, and share them with their followers.
Who do you send a PR box to? 
As already mentioned, all the PR boxes are sent to prominent personalities like celebrities and other social media influencers like Ticktockers, Instagrammers, and YouTubers.
What does the PR box stand for? 
In the PR package or box "PR" refers to "Public Relations". You can send a customized selection of your brand's commodities in the form of a PR package. So, to foster the popularity of your brand's items with a larger audience, you offer PR boxes to influencers.
Do celebrities get PR packages?
Absolutely yes! Celebrities have considerable influence over public opinion, and companies and organizations are aware of this. Companies send PR packages to celebrities since they also know that their strong followings of devoted followers make their endorsements and suggestions highly credible.
Strengthen Your Influencer Collaboration With Tycoon Packaging Now!
If you need custom PR boxes that wow the end-users, then turn to Tycoon Packaging.
Tycoon Packaging enables free customizing options that end up helping in advertising purposes. Furthermore, our complimentary delivery services throughout the USA are a wonderful perk. Plus, there are other savings available for bulk mailer boxes. Your questions can be directed to our customer care team at any time of day or night.
So, get in line with us now!