Apple packaging is the love of every single person. Apple brand is well-known for its packaging. The way it presents its packaging is just admirable. Every component of the product is well-displayed and cushioned in a very gentle way. But it's very expensive and everyone can not afford to buy apple packaging.
People nowadays admire such kind of packaging and they also want apple-like packaging for their products. But due to high costs, they can not buy Apple packaging. But they are in search of such kind of packaging to give their products an elite look. Are you also one of them and want to give your clients the same unboxing experience?
This article will guide you on how to make apple packaging and also you will get to know different kinds of apple packaging. So, stay connected!
What Sets Apart Apple Packaging From Others?
Apple goods are renowned for their sleek design. Their products and packaging are lightweight and innovative yet expensive.  Finding that their packaging complements what they sell is not surprising.
Moreover, people desire luxurious brands to have superior packaging and Apple is no different. But how did Apple accomplish this? Apple has an expert team that is handling everything.
Although some small or startup businesses lack Apple's financial resources to hire such a huge and expert team but still can replicate .
How To Make Apple-Like Packaging?
Unwrapping an Apple product is a standalone experience and anyone who has done it will attest. From a magnetic closure followed by the design, everything is just amazing. To elicit thrill and excitement in buyers their designers carefully consider every aspect. Have you ever thought about their product packaging and its impact? Half of Apple's marketing job is done by its product packaging. Yes! Experts give equal attention to packaging as they give to the products.
Luxury Apple packaging is the signature hallmark of its achievement. But we can not overlook its affordability. Apple packaging and products are very expensive. But it is still possible to make apple-like packaging.  Continue reading to know these possibilities!
Keep packaging modern and minimalist.
Select packaging design cleverly.
Focus on typography.
High quality is a must for Apple-like packaging.
Use custom box inserts.
Use complementary colors.
Keep Packaging Modern And Minimalist:
Custom apple packaging is a true example of elegance and minimalism. Its modern and simple designs are visually appealing as well as functional. So, to make apple-like packaging, the most important consideration is to make sure not to overdo packaging. An excessive amount of typefaces, colors, and chaotic graphics will just confuse the buyers.
Select Packaging Design Cleverly:
Apple gives careful consideration to the design of packaging boxes. Therefore, you should also consider tempting designs. Moreover, your design components should complement each other. Furthermore, just like Apple boxes add product images for easy identification. For enhanced feel emboss images on black or white designed box. And, to give an elite feel give a matte finish to your boxes.
Despite the temptation to try something new with your font choices, keep your written material aesthetically pleasing and readable. Avoid overdoing it by using too many different fonts. This will make your content seem jumbled on custom boxes. Remember that readable typography is a must for innovative packaging like Apple.
High Quality Is A Must For Apple Like Packaging:
Apple packaging is not only appealing but also of high quality. Their high-quality and luxury rigid boxes are the best in the marketplace. That's why to make apple boxes  always considers material quality. Can usage of subpar paper-which is less expensive-send the best possible message about your goods? Absolutely not! So, if your budget permits then use high-resolution images and quality materials.
To hold products in place Apple uses pulp inlay which is a paper tray made of fibers. These inlays are reusable and efficient but are too expensive. So, as an affordable option use custom box inserts. Use cardboard or paperboard to make these inserts. These materials are also recyclable and the best part is they are cheap.
Use Complementary Colors.
Some colors are standalone as an icon. The selection of colors to make sophisticated and elegant packaging is very essential. So, always go for colors that complement the products. Despite the fact that not every business has a particular hue, well-known manufacturing brands like Apple print packs are aware that some hues have various emotions. So, if you want some fun then add multi-colors but for decent boxes use monotonic packaging.
Different Types Of Apple's Packaging:
There is a vast variety of Apple products like iPhones, air-pods, iPods, MacBooks, and many more. Apple uses rigid boxes having separate lids and trays to pack these products. There is also a variety of Apple's box. Let's discuss some of them in this post.
Paperboard Apple Packaging:
Paperboard is a material having high strength. Moreover, it is light in weight. Apple packaging is mostly made by using this ecological and recyclable green resource. It is also very easy to cut for making various shapes of boxes. Paperboard Apple Packaging has numerous grades, each appropriate for different packaging needs. This material is utilized to make various Apple products packaging like: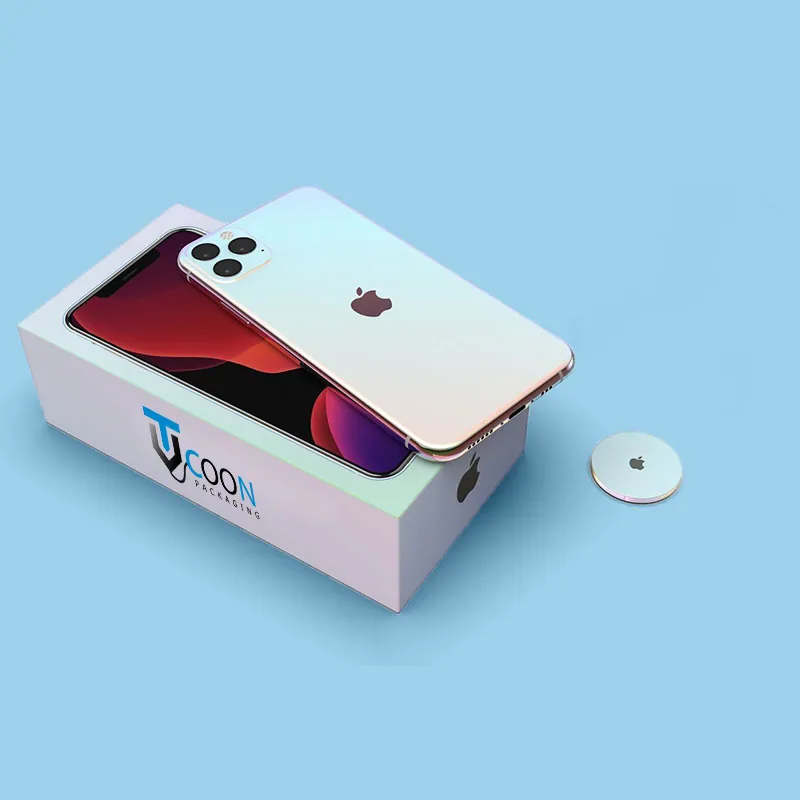 iPhone 14 packaging box.
iPhone 15 Packaging Box
As previously mentioned that Apple uses quality-oriented materials to make packaging boxes. Rigid box packaging is another type of Apple's boxes. Rigid Apple Packaging has a lid and a separate base with magnetic closure and inserts. Moreover, the design of Apple boxes has been carefully thought out to provide you with a leisurely and thrilling unboxing experience. Furthermore, in custom rigid boxes there is no bubble wrap instead inserts are used to secure the products.
Candy Apple Packaging is a very well-liked packaging style among kids and girls. Kitty candy packaging iPhone cases are also available.  As the name suggests, this packaging has more fun and charming elements. It is colorful but elegant at the same time.
Apple has always been known for its sleek and minimalist packaging. The iPhone 15 packaging box is no exception. It is made from a variety of materials, all of which are carefully chosen to protect the phone and create a memorable unboxing experience.
Here is a breakdown of the different packaging materials used to make iPhone 15 packaging boxes:
Paper: The outer shell of the box is made from paper. This paper is typically recycled and comes from sustainable sources.
Cardboard: The inner part of the box is made from cardboard. This cardboard provides support for the phone and helps to protect it during shipping.
Plastic: The plastic film that covers the phone is made from plastic. This plastic film helps to protect the phone from scratches and dust.
Foam: The foam that is used to cushion the phone is made from foam. This foam helps to absorb shock and protect the phone from damage.
In addition to these materials, Apple also uses a number of other packaging materials, such as glue, ink, and adhesive tape. However, these materials are used in smaller quantities and do not have a significant impact on the overall environmental impact of the packaging.
Where Can You Purchase Apple-Like Packaging?
Well, are you from those who want Apple packaging? Or you are the one who wants to buy Apple-like packaging?
Due to high costs if you do not afford to buy expensive Apple packaging then join hands with Tycoon Packaging. Here you can get almost exact Apple-like packaging boxes for your goods. You can get affordable custom box inserts rather than expensive pulp inlays. Moreover, with packaging that quickly and readily mimics Apple packaging, Tycoon Packaging is available to give you the best experience imaginable.
No doubt you will get the best from our platform. Our premium luxury rigid boxes draw greater attention which corresponds to favorable results.
Hence, get luxury Apple Packaging boxes of exceptional quality from us right away!