Hundreds of thousands of Americans begin their mornings with a mug of coffee, making the coffee sector in the USA one of the largest and fastest developing sectors in the world. In fact, the percentage of adult coffee users regularly is about 64% according to a report by National Coffee Association. Since so many individuals drink coffee, it should come as no surprise that there are numerous coffee firms competing for market share.
In this post, you will review the top and largest USA coffee brands in further detail. So, stay tuned and continue reading!
What Are The Famous Coffee Brands In The USA?
Are you interested to know about the top and most reputed coffee brand names? Then this article is for you. The famous 5 coffee brands in the United States of America are:
Dunkin Donuts.
McCafe.
Tim Hortons.
Folgers
Starbucks:
Everyone loves this brand and its taste of coffee. With over 30 thousand retail outlets across 83 nations, Starbucks is undoubtedly one of the biggest, most recognizable, and most well-liked coffee chains in the entire globe. In total USA coffee shares its approximate share is 12.4%. Everyone enjoys placing repeat orders because of the welcoming atmosphere and their creative ways of providing a selection of premium delicacies.
What is the price of a Starbucks coffee box?
Well, the Starbucks coffee traveler normally costs $15 and $25. The standard box with a capacity of 96 fl oz is priced within this range. Moreover, the container has the same amount of coffee as twelve eight fl oz coffee cups. Its coffee tastes worth the price.
It is also a top coffee brand in the USA which is famous due to its amazing and mouth-watering coffees. It is an exclusive company and it is eminent for its wonderful and delectable coffees and donuts.
How much is the box of coffee at Dunkin' Donuts?
Well, the good news is that it is a cheaper brand than Starbucks. Moreover, its coffee prices are lower. Its coffee cup is about $2 in price but the box of coffee costs about $10. Moreover, coffee type and box size may affect the costs further.
Another recognizable coffee brand in the USA is McCafe, which belongs to McDonald's. It was developed to increase the foot traffic to McDonald's retail locations. Expresso coffee and beverages with expresso were popular at the time. As a result, this launch was a success and was well-liked throughout the USA.
What is the cost of the McCafe coffee box?
At McCafe, the coffee box which reportedly costs roughly $10 includes 12 cups and enough milk and sweetener to customize coffee according to your tastes.
Among the world's largest fast-food dining chains is Tim Hortons. This brand is well known for its coffee, donuts, and many other fast food offerings.
How much is the box of coffee at Tim Hortons?
The cost of a box of coffee at Tim Hortons may change according to the location, kind, and size of the box. A small coffee box usually costs $12 to $15 and it contains 12 miniature cups of coffee. Moreover, the large coffee box typically costs between $18 and $22 and it contains 20 cups of coffee.
This brand was founded in 1850. It is also a prominent and trendy coffee brand and is mostly recognized for its ground coffee among clients. Also, it is also the top coffee provider in the ranking of the global market. In addition to offering affordable coffees in a range of forms, roasts, and tastes, this brand takes pleasure in creating inventive mixes
Coffee- Mood Refreshing Item For Coffee Lovers.
In most homes in America, coffee is a common everyday product. Based on studies, Americans drink three coffee cups each day on average, and annual revenues from coffee are rising by 20%. That explains why there are so many different coffee brands available right now. And each of them is competing to outdo the others by creating superior coffee in multiple varieties having eye-catching packaging. Everyone wants to sky high in the saturated market.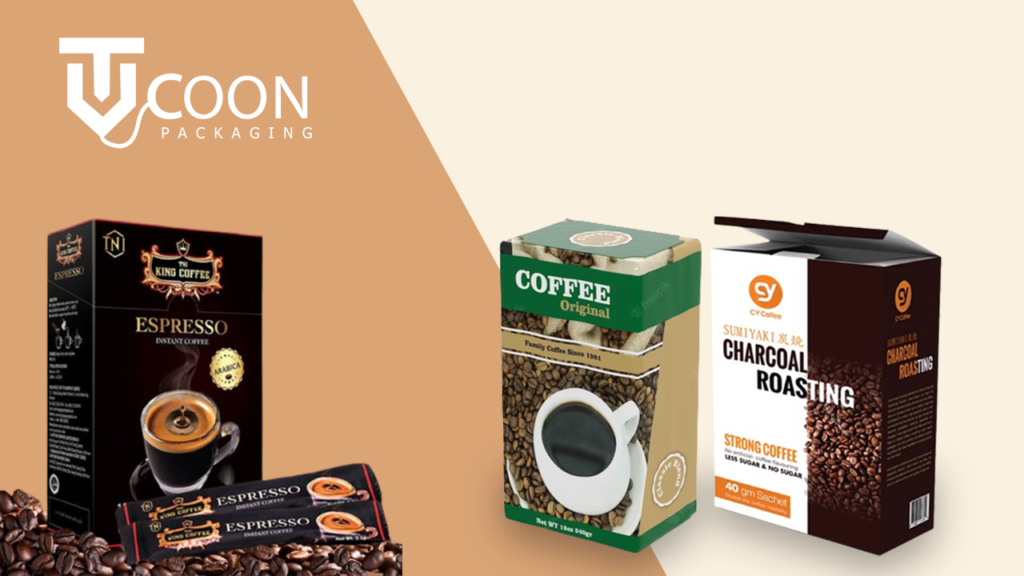 You may also search for the types of coffee and the most tasty ones. Are you? Well, here are the answers. You just have to continue reading!
How Many Coffees Are There?
Well, coffee comes in four varieties. Here are the names:
Robusta.
Excelsa.
Arabica.
Liberica.
The most prevalent and well-liked coffees are Robusta and Arabica. People like to use these two types the most.
Stay tuned!
Which Coffee Taste Is Best?
The answer is Arabica. Without any doubt, it is the most widely consumed kind of coffee. A lot of coffee lovers prefer utilizing this coffee because of its flavors. Moreover, Arabica beans provide a richer, more nuanced flavor that you may drink directly and it is mostly utilized for black coffee.
Coffee Packaging- Takes Coffee To The Next Level:
The achievement requires building an intriguing and effective visual presence in the fiercely competitive business environment today. In creating that persona, custom coffee packaging is fundamental. It involves much more than just product protection. But it develops into a brand extension, expressing your tale and creating a deep effect on your clients.
Additionally, the main benefit of this packaging is that it makes you emerge out I an overwhelmed marketplace. In a world where buyers are overrun with options, creative custom coffee packaging boxes can make the mark. Thus, as a quiet spokesperson for your business, your packaging conveys your principles, styles, and character.
Perks Of Coffee Packaging:
Coffee packaging encompasses much more than just a box. It is a declaration of
A possibility to interact personally with consumers.
A chance to entertain and excite visitors.
Enlighten clients about your offerings goals, ideas, and advantages.
Let's go right on the significant perks that coffee box packaging can bring to your expanding business!
Higher brand worth.
Create an impactful experience.
Better product security.
Higher Brand Worth:
Coffee packaging will strengthen the worth of your brand and coffee as well. Moreover, you can build an emotional bond with people and win their loyalty.
Create An Impactful Experience:
People feel appreciated and satisfied when they receive carefully designed coffee packaging. It will make them happy. And happy clients mean more sales.
Coffee packaging is a superb choice for great shipment safety. Also, it is an incredible way to protect coffee from most sorts of harm and other environmental factors.
Tycoon Packaging- The All-Rounder Packaging Company:
To obtain the finest and exclusive custom coffee packaging for your priceless coffee presentation and storage get connected with Tycoon Packaging. Furthermore, our pros are always available to help you and to make incredible boxes for their cherished buyers. They offer you the greatest suggestions for customizing your product packaging to make it more compelling to clients. Plus, you receive no-cost delivery when you get coffee boxes from us.
So, start bargain now!