You can store and transport milk from the dairy farm to the marketplace in milk carton boxes. These boxes are strong and robust enough to give safe and sound delivery without any harm.
Well, dairy marketing and branding strategies are out of date. So, redesigning milk cartons is mandatory now. Let's get to know how can you redesign and make unique milk carton boxes for your dairy products.
Ways To Create Eye-Captivating  Unique Milk Carton Boxes
Everyone is striving to make packaging for their goods that stand apart from other similar products in the industry. Here are some creative and innovative tactics to make a luring and hypnotic custom milk carton.
Customize your boxes.
Be minimalist with the packaging.
Make use of printed inserts.
Switch to quality-oriented and green materials.
Add complementary colors.
Suitable font style and size.
Work with reputable companies and seek expert guidance.
Continue reading!
The most significant tactic to make an alluring milk carton box is customization.  It is a great idea to pay attention to customization. This will aid in alluring clients and enhance sales.
To give a touch of luxury use add-ons like embossing, gold/silver foiling, debossing, hot stamping, and many more.
Print all the essential elements using a quality printer setup like offset and digital printing techniques.
Moreover, embellish your individual milk cartons with coatings like gloss, matte, or UV spot.
You should also add ribbons and bows to further enhance the look of individual milk cartons.
Additionally, print images on the milk carton packaging to give it a more special look.
Be Minimalist With The Packaging:
Every brand should understand that:
"Less is More".
So, keep your box design as minimum as you can. Just add vital details about the product and brand. If you add too many details and graphics then they might confuse the buyers and give a messy and cluttered outlook of the milk carton packaging. Moreover, add some white space. It will balance the cluttered design and also makes it simpler to read.
Make Use Of Printed Inserts:
For a rise in your organization's revenue, you ought to always concentrate on elevating the client experience. The opinions of the consumer decide whether your offering is successful or unsuccessful in the marketplace. Thus try to have a positive impact on buyers. For this, the ideal way is the usage of printed inserts in paper milk cartons wholesale. Consumers' impression of packaging with printed inserts may remain for a long time.
Additionally, they are also the best option for thanking your clients because you can write thank you messages on them. It also does a great job of surprising the clients which is great for making a powerful first impression.
Switch To Quality-Oriented And Green Materials:
In today's eco-aware world, green packaging is becoming more and more significant. So, designing milk carton boxes with sustainable components and encouraging upcycling as well as recycling can have a great effect. Moreover, switching to paperboard, cardboard, or other environmental alternatives can lower their carbon footprints. You can show your devotion to the environment and win over eco-aware customers by employing sustainable milk carton packaging material.
Add Complementary Colors:
Perfect color coordination is absolutely necessary for making impactful milk carton packaging. Your brand's ability to influence customer awareness will be constrained if your trademark and the company's colors are not complementary.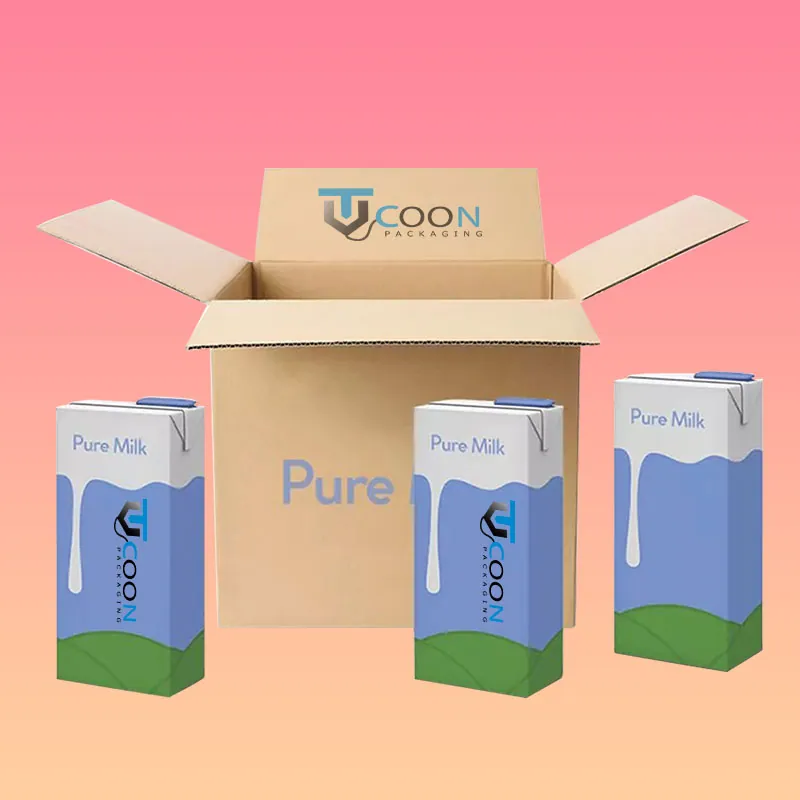 Moreover, use bright hues to make an eye-captivating effect. People love to buy bright-colored custom carton boxes rather than dull, boring, and plain boxes. Hence, for a catchy look focus on employing complementary colors.
Suitable Font Style And Size:
Another easy tip is the usage of suitable and appropriate fonts. Select the size and style of fonts carefully so that clients can easily read the content on the packaging boxes. Moreover, the typeface you use has a significant impact on your box's whole look. Therefore, always use readable, clear, and appealing font style and size.
Work With Reputable Companies And Seek Expert Guidance:
The most important tactic is expert guidance. For making appealing packaging collaborate with reputable companies. Working with those reputable firms is beneficial since they have experts who can make your milk carton boxes more intriguing and inviting.
Frequently Asked Questions Regarding Custom Milk Carton Boxes
What Is The Box Of Milk Called?
The box of milk made up of cardboard or paperboard is called a carton. You can store milk in it. Moreover, it keeps the milk fresh for a long period of time. They are light-impermeable and can withstand punctures.
Can I Drink Milk If The Carton Is Bloated?
Whenever a milk carton is bloated it means there is bacterial growth inside it. So, in this case, it's unsafe to drink milk. This usually happens due to poor-quality packaging. Therefore, always try to utilize high-quality empy milk cartons for sale from reputable brands like Tycoon Packaging.
Does Milk Last Longer In Cardboard Than Plastic?
Yes! Milk can remain fresh in cardboard cartons for a long time. Since cardboard cartons are impermeable to light that means they can not pass the light and hence the freshness and quality of milk do not get affected.
What Are The Old Milk Containers Called?
In old times large cylindrical containers called "milk churn" was utilized for the transport and preservation of milk. Sometimes it was also called a milk can. Mostly stainless steel was utilized to make these containers.
What Is The Difference Between A Carton And A Box?
A carton and a box both are constructed of paper. But typically cartons are thinner than boxes and you can employ them to secure milk. While in the case of boxes, there are internal layers and external layers of paper that make them thicker. And boxes are primarily utilized for transportation.
What Are The 5 Different Types Of Cartons?
The most commonly utilized types of cartons are:
Folding cartons- They are single sheet boards and you can fold them to make a tray or a box.
Rigid cartons- These cartons have separate tops and bottoms. Additionally, they are tough and you can utilize them for transporting goods due to their robustness.
Paperboard cartons- They are eco-friendly and you can easily print on them with any color.
Corrugated cartons- They are lightweight yet robust.
Aseptic cartons- They are multilayered cartons and you can utilize them to store liquid products.
Why You Should Prefer Tycoon Packaging?
Whenever we at Tycoon Packaging make unique custom milk carton boxes we always employ the very best ideas, prints, methods, techniques, materials, and a whole host of other things. Our cartons are reliable and distinctive because of all these exclusive features. Therefore, customers prefer us above all other vendors in the industry.
Every time a customer wants to make a purchase, Tycoon Packaging strives for customizing the packaging to make it tempting and wonderful so that everyone who sees it prefers it. Another fantastic benefit we provide is the expert's guidance. Yes, we have a professional team that is always ready to assist people.
So, without further delay try our milk carton boxes immediately!