Packaging is a vital part of the item's success. It ought to seem clear to you that an organization's biggest concern during manufacturing is figuring out how to securely store and ship the item. You should be aware that the public can only be satisfied by top-notch items like product packaging inserts. Poor-quality goods damage a company's reputation and cause it to fail. So, you should be aware that boxes with inserts can offer the appropriate level of security.
Custom inserts optimize the whole unboxing process for your consumers and offer beneficial tips for upselling, soliciting feedback, and establishing a more intimate relationship with the demographic you are targeting. If these details spark your curiosity, this guide will walk you through all of the possibilities and advantages of bespoke packaging inserts! But let's start with the fundamentals first.
What Are Inserts In Packaging?
Well, in simplest words you can say that any additional material other than the product itself within a box is called packaging inserts. It can be anything like a delivery note in black and white or a fully customized, excellent insert that can surpass your dear client's prospects.
What Information Should Be Added To The Insert?
Flat inserts without cut-outs make it straightforward to add promotional material, but inserts with cut-outs offer lots of space for branding. Thus always give careful thought to the kind of information you'd like to incorporate into the insert. These are just a few of the prevalent choices:
Discounts or coupons for your subsequent purchases.
Small items prototype.
Coupons for goods under promotion.
Product manuals or advice.
Merchandise catalogs.
Return labels.
Enticement to sign up for a reward scheme.
Small enticing presents like envelopes, bookmarks, etc.
Thank you cards.
Actually, the information you want to add to the packaging insert is totally up to your goals. If you want people to come again and repurchase your goods, then you can add thank you notes to impress them. Similarly, you may provide a discount on subsequent purchases if your goal is to drum up returning clients.
Types Of Product Inserts:
Hope that you have got the answer to your question that
What are product inserts?
Now moving on to the types of custom inserts. So keep on reading and stay tuned with us!
Paperboard inserts.
Rigid chipboard packaging inserts.
Corrugated inserts.
Foam packaging inserts.
Molded plastic packaging inserts.
Pulp product inserts.
Let's explore them more in detail!
Paperboard Packaging Inserts.
Display packages containing light items, such as stationery and beauty products, in a sophisticated manner. Won't shield delicate objects sufficiently.
Rigid Chipboard Packaging Inserts.
Fortified inserts for dealing with the delivery of bottles and accessories. Conveniently arrange things within the box as well. Also, they are strong and appealing also.
Corrugated Product Inserts.
Robust boxes that are suitable for handling glassware and other delicate things. Also, due to the corrugated material, you will find it very easy and simple to print whatever you desire on them.
Help in providing cushioning to the items to save them from jolts and pressure. It is basically a padding that will fit into the specially designed package box. Further, holds fragile possessions in place and gives them extra safeguarding while in transit.
Molded Plastic Packaging Inserts.
It is a sustainable option and offers long-term viability to your goods. Molded plastic is made of polymeric-structured synthetic materials. The damage it does to the natural world has made it less and less popular over time. But it is a cost-effective option.
You can employ them for more delicate items. These inserts are compact and can save money on shipping. Thus, an ideal option for you if you want less heavy and more resilient wear and tear insert kind.
Custom Printing For Tantalising Results
Custom printed inserts are a terrific method to broaden publicity for your company and its goods among a broad demographic. Furthermore, custom printing offers multiple rewards because it is generally highly affordable and easy to handle. The fact that you can use it any way you like is by far its greatest benefit. Benefit from the following printing choices: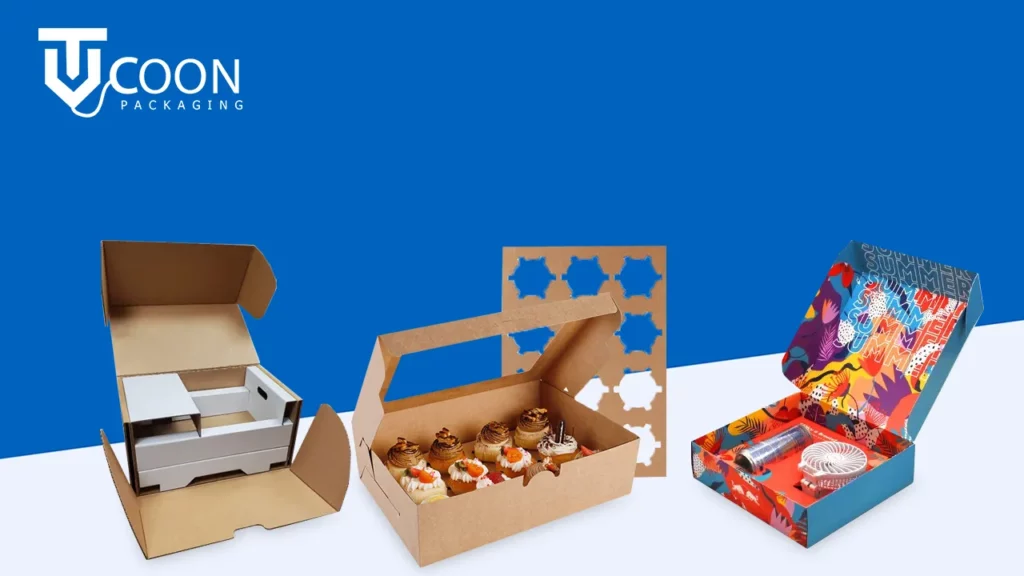 Flexographic printing method.
Lithographic printing method.
Digital printing method.
What Are Box Inserts Made Of?
The materials you can employ to make packaging inserts solely depend on the item. You can utilize simple or complex materials according to your choice and your item's requirements. Some materials are:
Corrugated cardboard.
Plastic or blister.
Foam.
Molded pulp.
Paperboard.
Rigid material.
Why Do You Need To Employ Inserts?
Well, are you interested to know why these packaging inserts are necessary? And why do you prefer using packaging inserts? Then continue reading.
Let's have a look at the 5 significant perks of product packaging inserts:
Ensure consistent and safe delivery of items.
Affordable means to transform your packaging to the next level.
Boost the vision of your company's image.
Source of educating clients.
Sending out special announcements and incentives.
Ensure consistent and safe delivery of items.
Unique custom inserts serve to add solidity, ensuring that your items in different boxes are transported and stored with trustworthiness. You can snugly store delicate goods inside our packaging boxes with inserts. It is vital to utilize inserts when placing delicate things, such as glassware or crystal products. Transporting and storing fragrance goods is another application for this strategy of enhancing consistency.
Affordable Means To Transform Your Packaging To The Next Level:
An advantageous scenario for your clients as well as yourself!
Product inserts are an affordable means to transform your packaging to the next level.
With respect to your demands, you can consider other solutions, but primarily, packaging inserts are a reasonably priced approach to improve your unwrapping experience.
Both simple and imprinted inserts can convey a luxurious item vibe, however, printed inserts may be slightly more expensive based on the technique of printing you use. Additionally, use advertising inserts, like notes of appreciation, to spread the love to your consumers if you would like to talk with them but aren't ready to shell out additional cash for printing.
These components are inexpensive and highly effective. Even if your company has chosen stock packaging, you still have the option to use unique inserts at affordable costs.
Boost The Vision Of Your Company's Image:
Personalized packaging with inserts is an additional effective avenue for raising consumer gratitude and the popularity of the brand. Anybody conducting the delivery from you to its location will be able to view your business's name and advertising materials when you personalize these boxes. Further, if you opt to put any promotional items within the box, doing so will foster reprise purchases and strengthen client loyalty.
Source Of Educating Clients:
For expressing vital details, box inserts are an invaluable resource. By providing information and educating clients your demographic will comprehend your good more thoroughly. They'll realize how it can benefit their life if they discover more.
It is also the best approach to inform a consumer about how to utilize your product appropriately.
Alternatively, you might utilize bespoke package inserts to raise exposure about your organization and tell the story of your corporation for prospective users. Give them an inkling of your organization's ideals so they can establish a connection. If your tale strikes a chord with them, it could encourage commitment.
Hence, being forthcoming with the details you disclose to your audience is perpetually a smart idea.
Sending Out Special Announcements And Incentives:
Moreover, you may interact with exclusive deals and greetings to your clients with custom package inserts. For instance, you may highlight a group of charities that your company closely collaborates with and discuss how your company supports their goals. Also, you might include stimulating promos or special deals with your box inserts. This is an exceptional chance to expand your product business or services that your company provides.
Ways To Make Engaging Packaging Inserts:
Identify the recipients with attention every time, making sure the insert fits their profile.
You can limit the goods that can be purchased with the discount; perhaps it is restricted to use on the newest collection or full-priced products.
Avoid including an excessive number of cues to action in a single box. Request one item at a time.
If it has a time frame, explicitly indicate how long it is valid.
Get inventive and turn the item inserts into something more useful than just an acknowledgment or a promotional code. For an attention-grabbing duplicate, use creativity.
A collaboration with a different organization could boost the outlook of your organization while drawing in fresh customers from their target market.
Printing superfluous pages is discouraged; instead, utilize ecological paper or recyclable paper, which is a more environmentally beneficial option.
Where Can I Get Product Packaging Inserts?
You may simply get product packaging inserts online. All you have to do is look them up online. Connect with Tycoon Packaging for hassle-free delivery and manufacturing of your customized inserts. Make us your top priority since we always do what we say. Thus why do you hold up? Seize the opportunity before it's too late.